About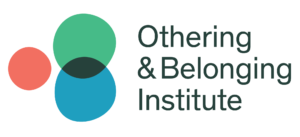 The Othering and Belonging forum, which includes this multimedia journal Othering & Belonging as well as our Othering & Belonging conferences, reflects the broader vision and mission of the Othering & Belonging Institute at UC Berkeley to investigate and challenge social cleavages and hierarchies based on differential power, privilege, and access to resources.
Othering & Belonging offers a comparative focus on different categories and axes of stratification and difference and emphasizes the dynamic interrelationship between them. The intent is to establish a broad, analytic framework by which distinct and overlapping forms of marginalization and inequality can be understood and challenged.
The Journal is committed to a redrawing of the boundaries between the fields of academic research, policy analysis, the arts, and engaged practice. The Journal aims to underscore the crucial importance of integrating different fields of practice and scholarship in order to effectively challenge Othering, advance Belonging, and expand the circle of human concern.
Othering & Belonging features articles that look at specific forms of marginalization, but also emphasizes the relationships between them. To this end, the journal aims to create and sustain a dialogue where, for example, a specific social problem (e.g., residential segregation, healthcare reform, incarceration) can be understood and examined by how it impacts different groups.
Find out more about the Journal editorial and publishing team.
If you are interested in submitting work to Othering & Belonging, please see our Submissions page.